Discover Bucharest - Places to eat
In terms of cuisine, the traditional Romanian food is definitely a must-try once in Bucharest: the tripe soup, sarmale (stuffed cabbage rolls) accompanied by polenta, or the large range of borsch dishes, as well as mititei (grilled minced-meat rolls) are the locals' top favorites. If you are excited to go on a culinary journey in Bucharest, then get ready!
HANUL CU TEI
Located in the historic center of Lipscani, Hanul cu Tei breathes history and eclecticism. One of the oldest taverns in Bucharest, it still retains its original structure. Built by merchants in 1833, it represents typically Romanian architecture and decor.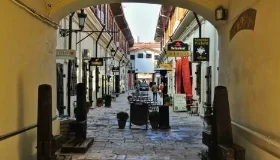 Zexe Zahana
One of the favorite traditional Romanian food places in Bucharest. Everything here is home made: mititei, Patricieni sausages, zacusca (a vegetable spread made with roasted eggplant and red peppers), along with jumari (deep-fried pork cracklings), or ciorba de perisoare (Romanian meatballs sour soup).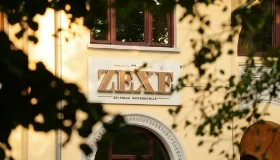 Coffee places
Origo, M60, Coftale (in the warm season is the perfect place for a coffee as they have a nice and quiet terrace), Steam, Guido (only for coffee-to-go ) and Two Minutes (this one goes perfect with the French Revolution eclairs, located 3 minutes walking distance away).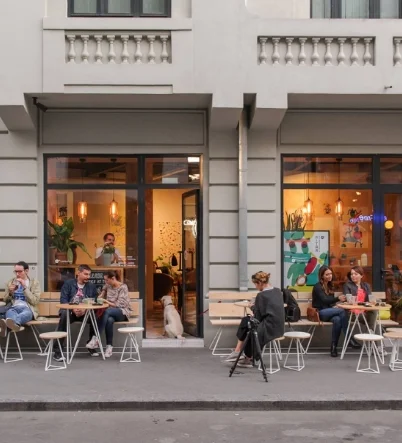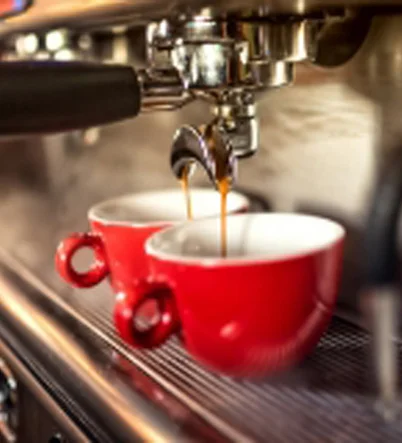 Romanian snacks
Covrigi – traditional Romanian pretzels (the famous pretzels of the town Buzau that everyone knows); Merdenea cu brânză – traditional cheese pastry; Plăcintă – pie with various fillings (apples, pumpkin, cottage cheese and raisins); Gogoși – sweet pastries with or without filling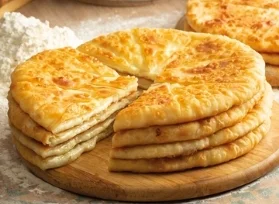 Romanian starters and sides
Zacuscă – a traditional Romanian vegetable spread made with roasted eggplant and red peppers
Salată de vinete – eggplant salad or dip made with roasted and puréed aubergine mixed with sunflower oil, lemon juice, and salt
Ardei umpluți – hollowed-out peppers stuffed with ground meat and rice
Ardei copți - roasted pepper salad that pairs well with salată de vinete
Jumări – deep-fried pork cracklings
Bulz – baked polenta and sheep cheese with sour cream
Salată de Boeuf – beef salad
Ciorbă – traditional Romanian sour soup, there is a variety among which we mention ciorbă de burtă, ciorbă de fasole, ciorbă de perișoare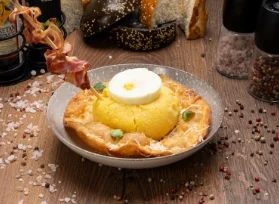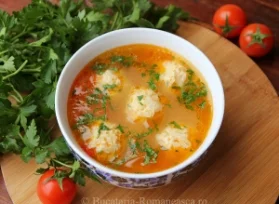 Traditional Romanian dishes
Mici - or Mititei is Romanian grilled sausages with no casing
Sarmale - Romanian cabbage rolls
Mămăligă - similar to polenta, it refers to a type of traditional Romanian porridge made from boiled cornmeal, water, salt, and butter
Varză călită - stewed cabbage that can be served cold or hot, often with smoked pork and paired with mămăligă
Tochitură - Romanian dish made with pork, smoked bacon, and smoked sausages
Pomana porcului - a simple dish made with various cuts of pork, offal, and sausages fried in lard.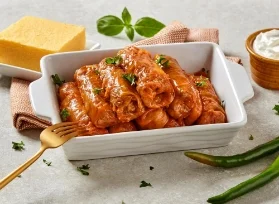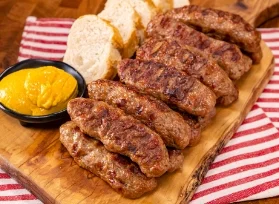 Romanian desserts
Papanași – Romanian fried doughnuts with sour cream and blueberry jam on top
Clătite – Romanian pancakes
Salam de biscuiți – Romanian no-bake chocolate roll with biscuits